AERIAL FIREFIGHTING PROGRAM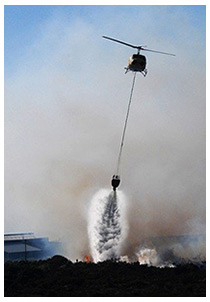 Performance Aeromotive Inc offers consulting and management for aerial firefighting program development.  We work closely with Civilian companies and Governmental officials who wish to implement complete programs using either helicopter or fixed-wing aircraft, or a mixed fleet of both types.  We are able to help program managers scale the size and scope of a program to work within their budget.
Performance Aeromotive works closely with clients to understand their needs, to fully develop an efficient and professional operation, and can act fully on the client's behalf as the project developer, handling all aspects of area planning, operations management, pilot and maintenance training, consulting and systems engineering.
Operational training is available from our team of pilots who are experienced with external load water buckets (aka; Bambi Buckets) as well as helicopters equipped with conformal dump tanks and spray systems.
We are able to work with clients to train in the deployment of suppressants and retardants, as well as training on the environmental impact of the use of certain chemicals such as polybrominated diphenyl ethers (PBDEs) and fluorinated foams.
Performance Aeromotive can also help clients integrate fixed wing aircraft into their program so that fire attack command and control will benefit from the increased loiter time that a fixed wing aircraft offers, allowing commanders to stay on site and direct attack aircraft.
Contact for more information about Performance Aeromotive Aerial Firefighting Program.